Kings Win Championship Division With Sweep over Nighthawks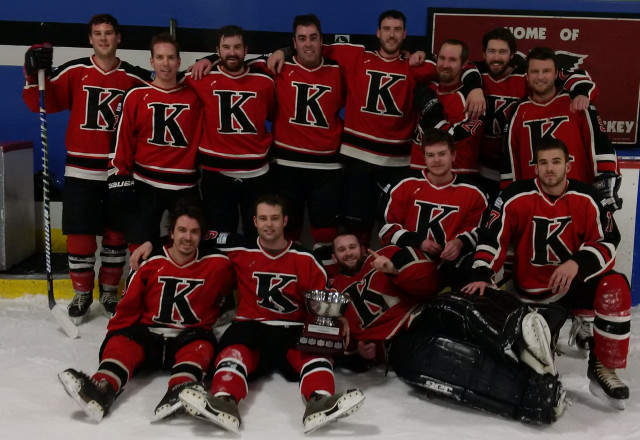 Monday March 19, 2018
Evan MacDonald scored twice and Cameron Hill recorded the shutout as the Kings blanked the Nighthawks 4-0 to clinch the Championship division title on Monday night at Simmons.
The Kings won the best-of-three championship series two games to none.
Tyler Murphy (1-1) and Ian Postma (1-1) also scored for the Kings with Matt Patterson (2), Chris Martin and Doug Martin picking up assists.
Jody Doucette took the loss in goal for the Nighthawks.
In the second division on Monday night the Whitecaps downed the Hunters Alehounds 6-3 to advance to the Final vs. the AVC on Thursday night at 8:10 at Simmons.
The AVC can clinch the 2nd Division Championship with a win on Thursday, but if the Whitecaps win there will be another winner-take-all game on Monday at 8:30 to determine the second division champion.
Did you like this article? Share it!
The league has split into divisions. Which do you prefer?
x
Term of use Shark Media & Sport
The content of this site is private and purely informative. The rights of a visitor to this site cannot, therefore, be derived from the content of this website. This website is operated by and was created by SHARK MEDIA & SPORT. The data contained within this website are the intellectual property of and are copyright-protected. The data herein cannot be copied or reproduced without the prior consent of or SHARK MEDIA & SPORT, other than in contexts requiring on-line searches. However, you may print out entire pages of this site for personal use. For further information about the use of this site, please communicate with SHARK MEDIA & SPORT.