Bolts Win Championship Division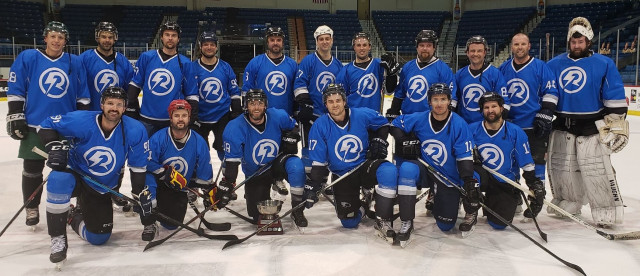 Monday April 5, 2021
Greg O'Brien had a goal and four assists; Mike Arsenault had a hat-trick and added an assist as the Shreenan Electric Bolts clinched the Queens County Rec League (Championship Division) title on Monday night with an 8-4 win over Whitestone Construction to sweep the best-of-five final.
The Bolts were the third seed entering the playoffs but went 6-0 with sweeps in the quarter-finals against the Kenny Richards Plumbing & Heating Hacksaws and the 2018-19 champion Churchill Arms. There was no league champion last season as the Covid 19 pandemic ended the season during the finals.
Here is the Shreenan Electric Bolts roster:
Back row (left to right): Owen Hendricks, Nic Jones, Jon Cameron, Cody Jenkins, Mike Arsenault, Greg O'Brien, Colin Younker, Mark Dolan, Doug Martin, Dan MacRae, Wayne Savage
Front row (left to right): Matt Carter, Scott Carragher, Ryan Shreenan, Randy Cameron, Marshall Ellis, Robbie Chandler.
Missing from photo: Brodie Sanderson, Jason Cameron, Darcy Murnaghan.
Did you like this article? Share it!
The league has split into divisions. Which do you prefer?
x
Term of use Shark Media & Sport
The content of this site is private and purely informative. The rights of a visitor to this site cannot, therefore, be derived from the content of this website. This website is operated by and was created by SHARK MEDIA & SPORT. The data contained within this website are the intellectual property of and are copyright-protected. The data herein cannot be copied or reproduced without the prior consent of or SHARK MEDIA & SPORT, other than in contexts requiring on-line searches. However, you may print out entire pages of this site for personal use. For further information about the use of this site, please communicate with SHARK MEDIA & SPORT.